2019.07.01
Organization Information
New secretary general Inauguration greeting
We would like to thank you for your continued support of the Shanti Volunteer Association. It is Eri Yamamoto who took office as Executive Secretary on July 1st, 2019.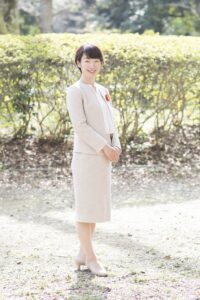 'If I don't have any food, I can attack the neighbouring village'.
He left his parents when he was five and was taught how to use a gun. He grew up feeling nothing about fighting on the front line. He never knew the love of his parents and never went to school. I can clearly remember my shock when I first met the child soldier.
The child soldier whose eyes seemed to prove that he would never trust anyone changed into an ordinary 15-year-old boy when he participated in SVA's library, gazed in performance of SVA staff, attracted to the story of a picture book and couldn't help smiling. Although he quickly turned his face away in shame, this moment began to make up for his lost childhood. At that time, I realised the great power of picture books, storytelling and Kamishibai, which were SVA's starting point.
Poverty, conflicts and disasters deprive children of their childhood. It has been reported that 61 million children do not get access to primary education worldwide. Additionally,, there are about 70 million people who live unstable lives as refugees and displaced people who lost their homes and fled from their place of origin due to conflicts.
These days, even developing countries have booming economies due to globalisation. On the other hand, the social issues we face are becoming more complex. In today's world, we witness economic polarization, poverty in the city, educational disparity due to economic polarization, workers who have crossed the borders, immigration issues, human rights violations and environmental issues like climate change. Because we are in this situation, we need to review how NGOs contribute to civil society and decide what should be changed and what should be preserved.
In the educational field, it has been recognised that children need to acquire the necessary skills to cope with the challenges they face in diverse and complex societies, including creativity, communications skills, critical thinking, stress management, knowledge and the capacity to empathise. The SVA library project has promoted reading and storytelling for a long time, which has played an important role in developing these life skills.
It is not possible for SVA to solve today's complex problems single-handedly. We will always support people who are in tough situations, and continue our earnest efforts to expand access to education which develops life skills. To reach this goal, we will keep in mind the wishes of our individual supporters and work with citizens who support SVA activities. In addition, we are improving our partnerships with various actors and specialised institutions which share our goals and building more working partnerships.
As the SDGs targets, these global issues should be addressed by developing countries and the international community, including Japan. SVA will begin to contribute to solving problems in Japan, utilising the experience we have accumulated since SVA was established almost 40 years ago. We have learned to cope with the frequent emergencies and disasters that are being triggered by climate change in our own unique way.
We will continue to support the development of a peaceful society where all children have access to education and can sleep without anxiety. Thank you in advance for your warm support.
July 10, 2019
Shanti Volunteer Association
Secretary General