Cambodia
Following reconstruction projects after the civil war, we are supporting the development of infrastructure for early childhood education and the expansion of lifelong learning opportunities.
Background of Activities
As Cambodia's economy has developed since the three-decade civil war, the economic disparities between urban and rural residents have grown, with the majority of illiterate children and adults living in rural areas. About 65 percent of elementary schools operate with two shifts, morning and afternoon, due to a shortage of classrooms.
What We Do
In farming areas with severe poverty and high illiteracy, we help to develop infrastructure for early childhood and primary education, as well as to expand lifelong learning opportunities.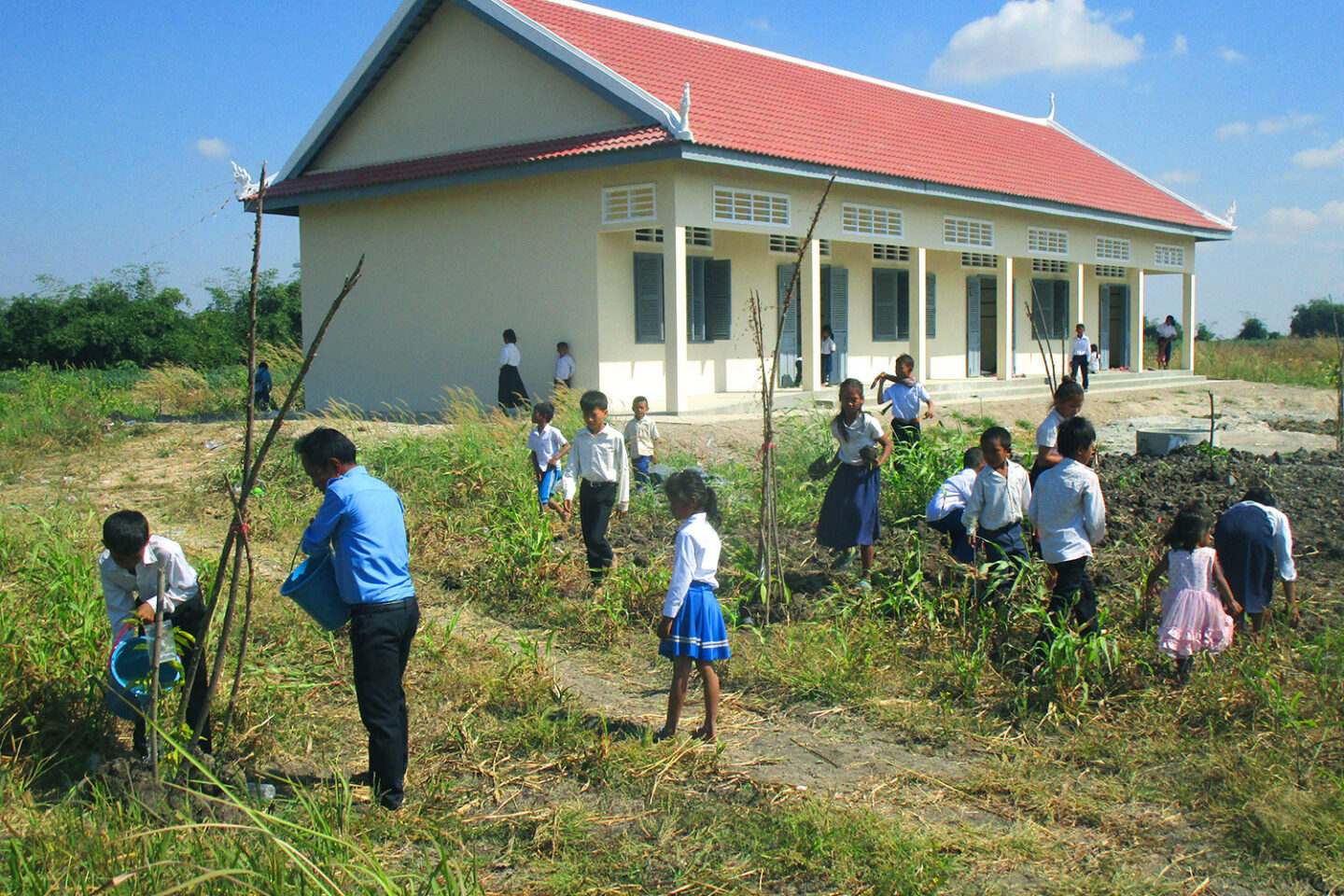 School Construction Project
We launched our school construction project in 1991 to promote the settlement of returning refugees and internally displaced people. To create spaces where children can enjoy learning and look forward to a bright future, we select school sites with the Provincial Office of Education and then build schools, involving local people in the construction process, from the planning phase to construction work. We built over 280 schools by the end of 2020.
* The project was renewed as Dream Primary (Elementary) School Project in 2012.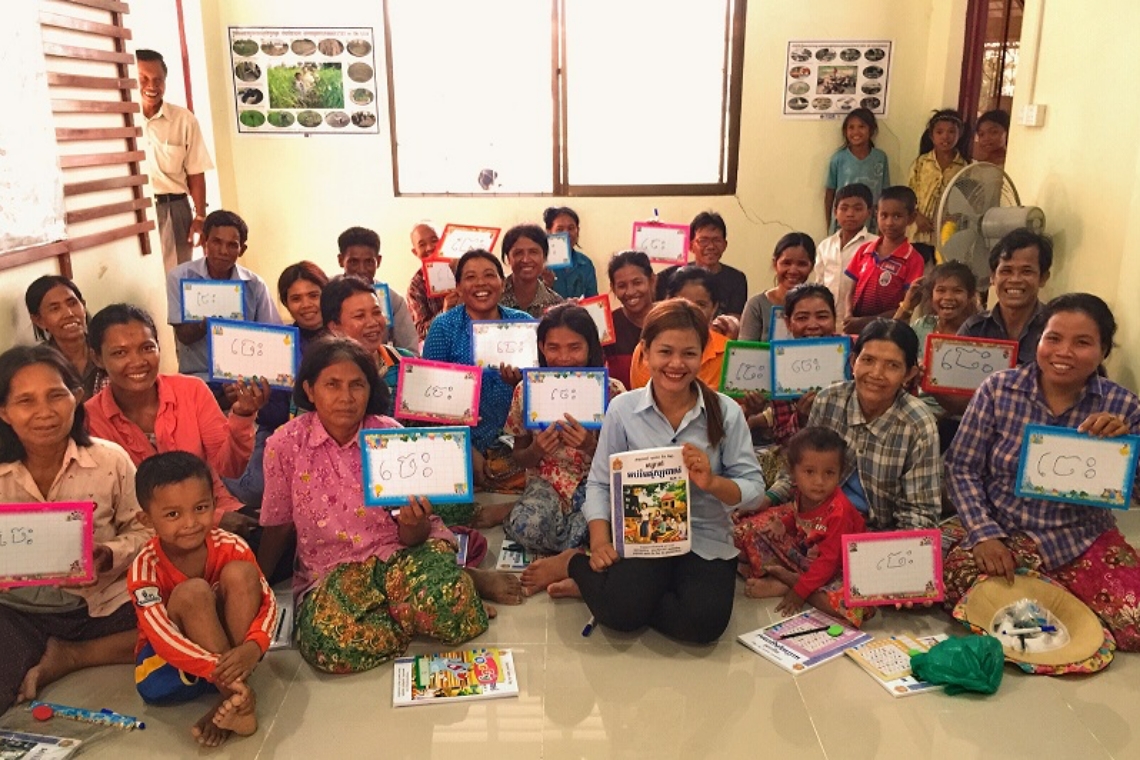 Library-oriented Community Learning Center (CLC) Project
Many of the rural residents who missed educational opportunities due to the civil war have difficulty reading and writing, and as a result, struggle to accomplish things that are necessary for their daily lives. We build community learning centers (CLCs) that function as lifelong learning hubs where everybody, from children to adults, can learn. We promote literacy by providing residents with opportunities to learn to write and read on a daily basis through library and other activities that we hold at these libraries. According to residents' needs, we also actively hold literacy classes, farming and health training for better lives, and sporting and cultural events. Our fun, comfortable, and practical programs have been helping residents live on their own.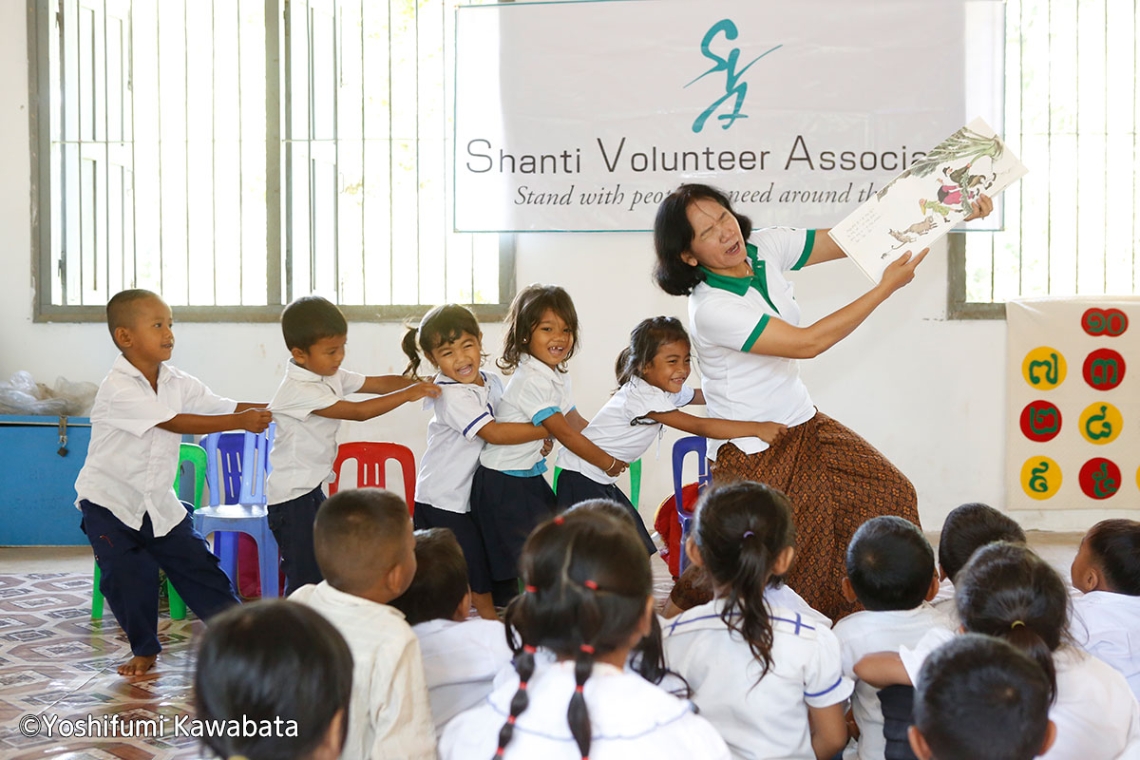 Project to Improve Early Childhood Education in Public Kindergartens
Early childhood education has been in the global spotlight as a way to create environments where children can continuously receive education so they can escape poverty. In Cambodia, the number of children who attend kindergarten remains low, and a lack of appropriate early childhood education and childcare to promote young children's healthy development is negatively affecting primary education. With the aim of creating kindergartens where children can learn though fun activities and experiences, we train teachers, utilizing SVA's experience of conducting school library activities. The project helps teachers improve the quality of early childhood education with effective teaching methods (story time, educational material preparation, playtime activities, event planning), as well as engaging classroom environments for young children.
Activities So Far
When we opened our office in Cambodia in 1991, people were mentally exhausted due to political instability and the civil war. Against that backdrop, we worked with local people and education authorities to carry out our projects, including library activities and school construction.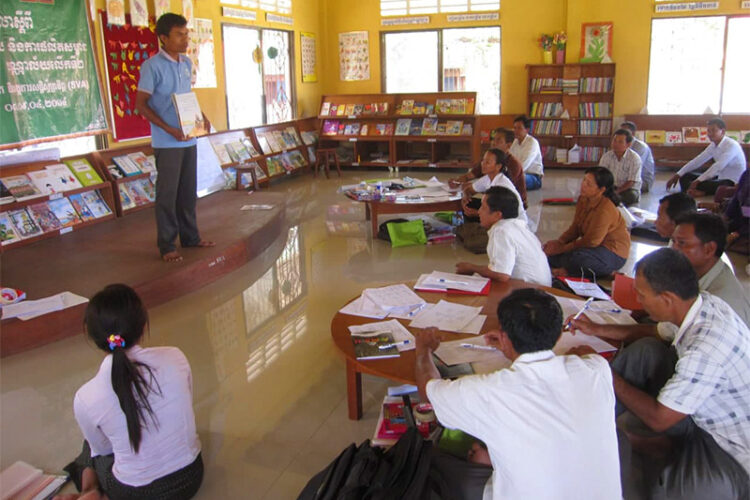 Public Library Project
Our Public Library Project started in 1993 with a mobile library that went around to schools and villages, as well as the publication of picture books and paper theater (KAMISHIBAI) materials.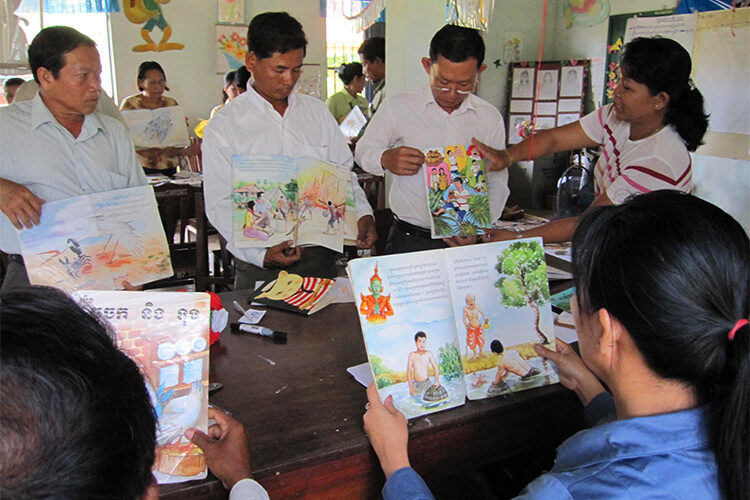 School Library Operation Project with Community Participation
Although the Ministry of Education, Youth and Sport of Cambodia adopted the Standards for Primary School Library, requiring all schools to have school libraries that meet certain requirements, schools are having difficulty operating their libraries due to limited budgets and technical issues.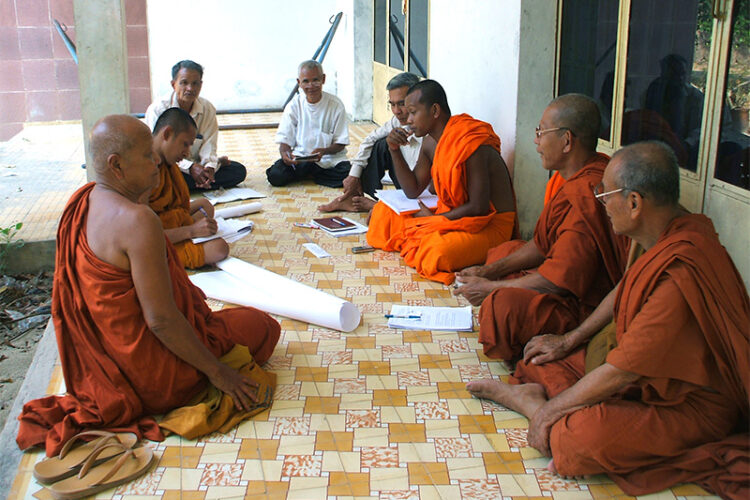 Cultural Projects
Reprinted Buddhist sutras and books burnt by the Pol Pot regime. By 2011, we reprinted and distributed 89,102 volumes of 154 titles to temples, Buddhist schools, relevant authorities, and libraries across Cambodia.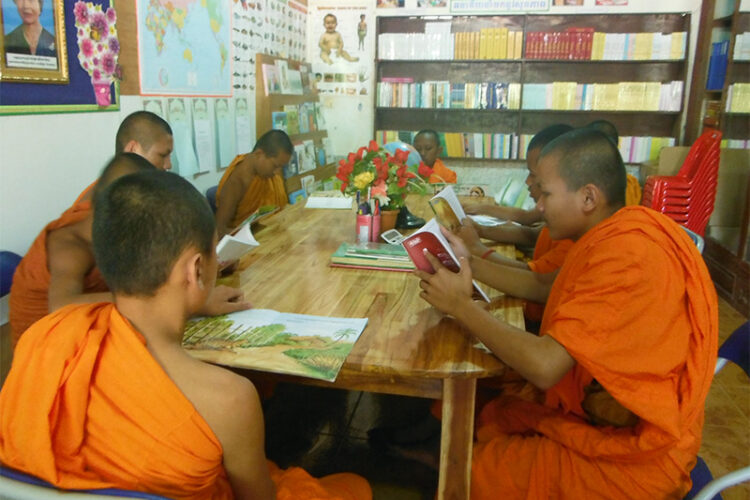 Traditional Cultural Projects and Buddhist School Library Promotion Projects
In Cambodia, many Buddhist temples were destroyed during the civil war in the 1970s. Although Buddhist temples and monks have played key roles in the country's post-war reconstruction and development, and despite the country's recent economic growth, the reconstruction of Buddhist schools and libraries annexed to temples, as well as the development of their human resources, including monks, has not progressed.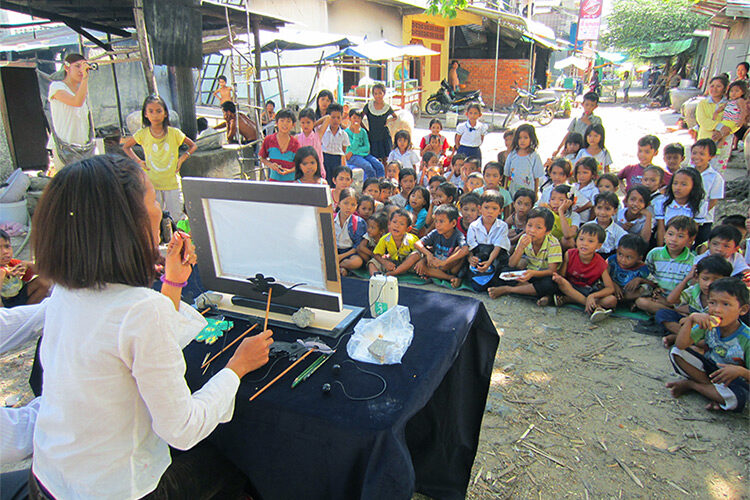 Slum Community Library Project
When the project was implemented, there were as many as an estimated 700 slums in Phnom Penh and these slums still face many problems, and suffer under harsh living environments. Particularly, the education level and literacy rate of not only young children but also teenagers and adults are extremely low.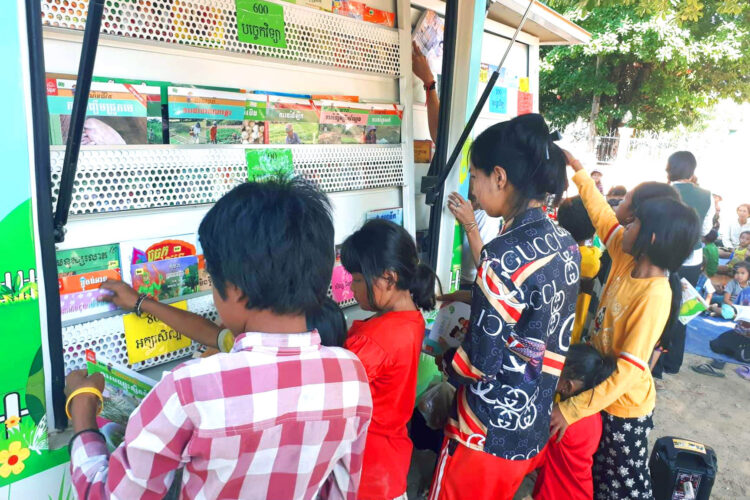 Mobile Library Services
In Cambodia, there are only a handful of school and public libraries, and children have little opportunity to encounter books.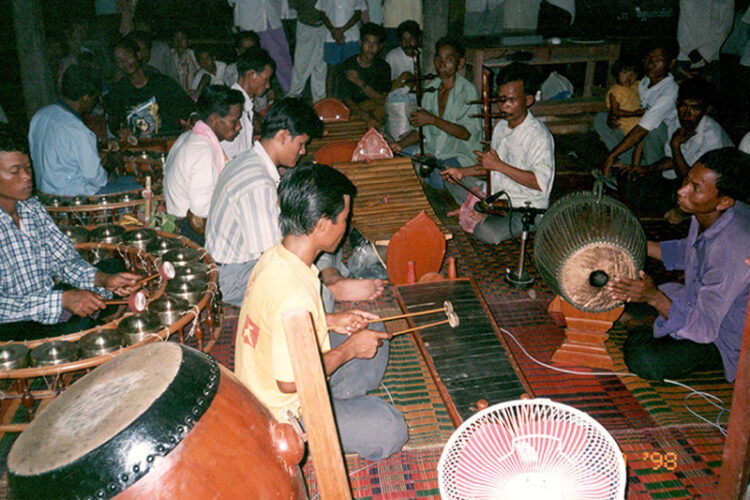 Integrated Social Development Project
From 1998 to 2002, we carried out complex projects, including rice banks, building of community libraries and day-care centers, tree planting, irrigation works (wells, reservoirs), revival of traditional temple music bands, etc.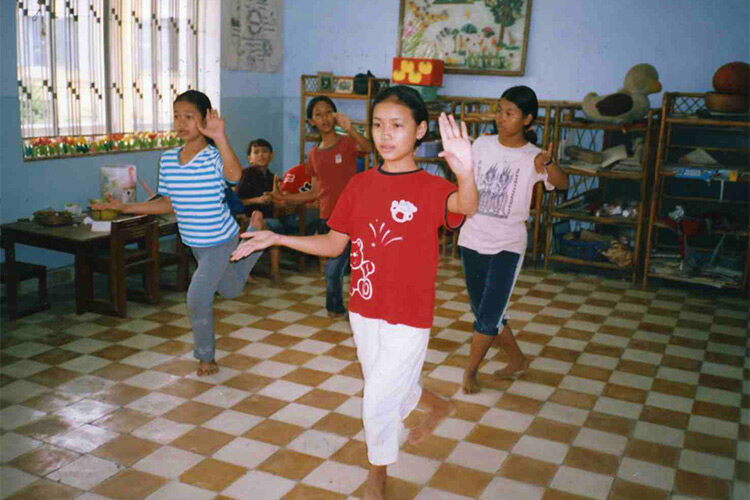 Children's Home for Culture and Education Project
From 1995 to 2005, we worked with the All-Japan Prefectural and Municipal Workers Union (JICHIRO) to carry out the Children's Home for Culture and Education Project. In this project, a model institute for social education and welfare was built and operated within the site of a training school for kindergarten teachers in Phnom Penh.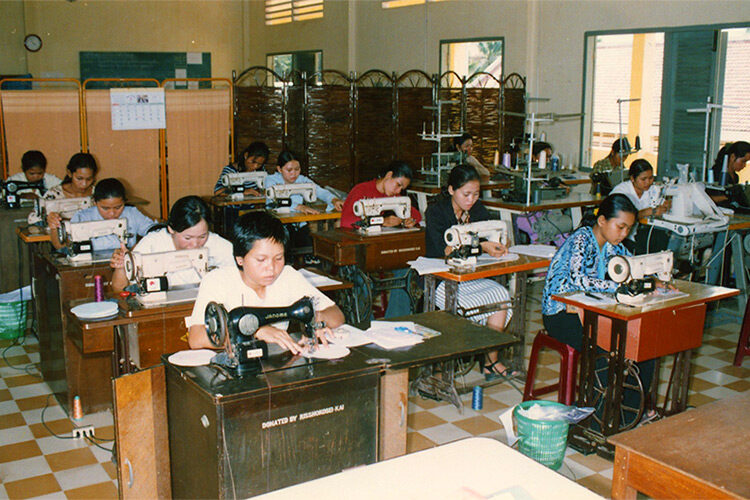 Human Resource Development Project
The construction of the Japan-Cambodia Friendship Vocational Training Center was completed in 1992 and vocational training in printing, woodwork, electricity, needlework, and embroidery was provided at the center.